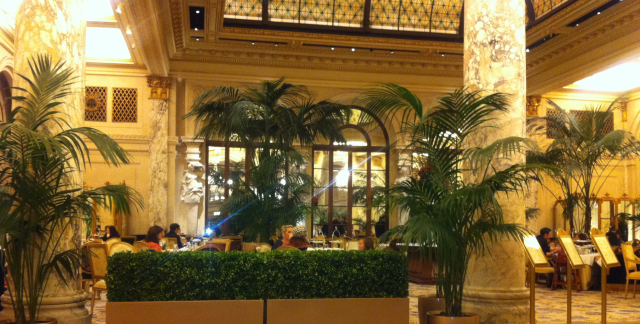 I left for New York City in early January. I went with my friend Camille and her mom (my teacher last year in third grade). I also went with my parents. We took a flight from San Luis Obispo to Los Angeles then a different plane from Los Angeles to New York.
We flew into JFK airport. JFK stands for John F. Kennedy – a US president who was shot (pew – pewed). We arrived at 2 a.m. A driver picked up up in a Suburban and took us into the city through Queens.
Our hotel was the Omni Berkshire Palace on 52nd and 5th Ave. We had a really nice room. It had one room with a pull out couch and a TV. The other room had two queen beds and another TV. Camille and I both received kids backpacks from the hotel full of kids toys and licorice. The adults received a cheese plate and fruit. We ate some of the cheese plate and went to bed.
On our first day in New York City, we walked to FAO Schwartz and stared in awe at the interesting inner tube sculpture.
Then we walked around 5th
Avenue and saw all of the high fashion design stores. I passed Trump tower and said "Wow! Look at those guards out front." Ms Rowlands suggested that we go inside, and we did.
We went up 6 sets of escalators to get to the garden, which was not very interesting, but there was a great view from up so high.
On the way back to our hotel, we stopped at a nice cafe that had a buffet and I had pasta, meatballs, and mango.
When we got back to the hotel, we all changed and put on fancy clothes to go to my parents party at the rLounge in Times Square.
The rLounge had a great view of Times Square. We could see where the ball drops each year on New Year's eve.
We did not stay at the party long because we had a big day ahead of us. We did stay long enough to have hors d'oeuvres and drinks.
We spent the day at MOMA – also called the Modern Museum of Art. My favorite thing about MOMA was how we had the headsets so we could listen to the tour of the museum. I really liked Starry Night by Vincent Van Gough
Thursday night at 8:30 PM we saw the musical "The Lion King" on Broadway. It was amazing! My favorite character was the guy who played teenage Simba. There was a really cool part where part of the cast had lit up pieces of Simba's father they did a dance with the pieces, then at the end of the dance they put the pieces together and made his father.
Friday was highlighted by a visit to the top of the Empire State Building. The view was awesome, but the weather was cold and windy. At one point, it snowed, and for a girl from California, that is really cold but I liked it because it was different.
By the way – we had a bagel for brunch that was was very good, and even met a real NYFD fireman.