If you missed the first posts in this series, go back to the beginning.
Summer 1 – LA Sparks and Trip To New York
If you read my blog regularly, I won Regional Dancer of the Year for Hollywood Vibe. It is a huge honor to be selected by the Hollywood Vibe faculty as the top dancer of the weekend, but moreover it qualified me to compete for the National Dancer of the Year during Hollywood Vibe's Nationals Competition.
Hollywood Vibe held their week-long Nationals in LA and the talent and competition was fierce. It was not really a drama, but emotions ran high. I loved dancing with so many friends from around the Nation, like one of my besties, Leah Roga from Phoenix.  Just for fun, our parents had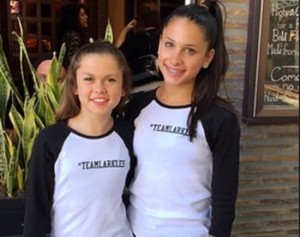 #TeamLarkles shirts made for us since we plan to spend many weeks together, and #TeamLarkles was born!  I tried to work as hard as I could so that I could dance well and show the teachers at the convention that I was deserving of the title National Dancer of the Year. I woke up my mom at 5:30 each morning to help me get ready so I could be there way before our call time 7:00 am. Liz Imperio, creative director of Hollywood Vibe taught me a lesson that I try to live by. She said that if your call time is 7:00 then 6:45 is "on time".  If you want to be early you need to be there at 6:30 am.  I do my best to follow this rule whenever I am headed to a rehearsal or audition.
At the end of the week, they called up the top 5 dancers to the stage.  Then they announced the top 2 dancers in my Intermediate category to do a dance off. I made the top 2 list and it was very nerve racking, but exciting at the same time.  The next morning the two of us got to dance for all of the judges at the event and a large audience.  They didn't tell us who won the award until the awards show that evening.
At the end of the night, I was the last dancer standing and was awarded the Hollywood Vibe National Dancer of the Year! There were so many dancers deserving of the title that it was a shock to win!
This year I am planning to go to as many Hollywood Vibe conventions as possible. It is a great honor to represent them. #TeamLarkles almost doubled up. Leah Roga was a finalist in Teens and won top solo overall. Her competition was REALLY competitive.  The Teen Dancer of the Year went to one of my immaBEAST teammates – Trinity Inay. She is a super sweet girl and a great dancer.  We got to know each other earlier this year when we  worked together on Dancing With The Stars (see video https://youtu.be/xQkAPpxDQB0?list=PLYVO53t5xTKUnxykgAK8wq_Qz88ujzrH6
).
Hollywood Vibe is my second National Championship as a dancer. The first came three years ago at Hollywood Connection; they call their national prize ICON of the Year. Here's a little known fact for you.  Hailee Paine, one of the top 4 finalists on So You Think You Can Dance also won the Senior title of Icon of the Year at the same competition.  I absolutely love her!  She's an amazing dancer and one of the nicest people in the world!  I was sad that she did not win SYTYCD, but getting to the final two for Team Stage is a huge accomplishment. She really shined as a versatile dancer, often outperforming many of the Team Street dancers in Hip Hop pieces. Amazing, right?  I'm so excited to see where her career is going to go from here!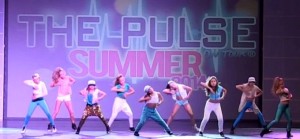 After Hollywood Vibe the #TeamLarkles tour continued at The Pulse on Tour in Las Vegas. We literally left the awards at HV Nationals and drove ALL through the night to get to Vegas. The Stutts family followed with us (shout out to Hannah and Pate). We did not get to perform in the showcase because we missed Friday, but the rest of the weekend was amazing – lots of friends and great training. A bunch of my friends including Leah became Pulse Protégé, which is a huge honor, but not me. Maybe I will win next time. You just never know. I really appreciate winning scholarships that have allowed us to continue going to Pulse in the future. The faculty, staff, and dancers go full out. It is a great place to learn and train. I am always exhausted when I leave. FYI, Bally's Las Vegas is a dumpy hotel ☹
Be sure to check out the first post in this series
Summer 1 – LA Sparks and Trip To New York
Subscribe to see the next post –  Summer 3 – Leaving Las Vegas