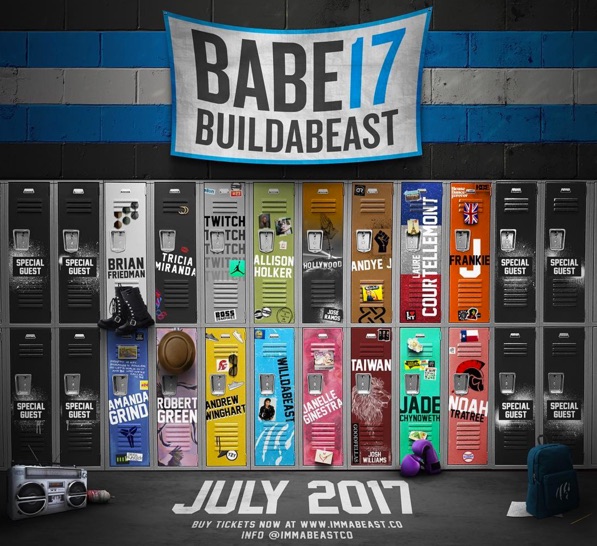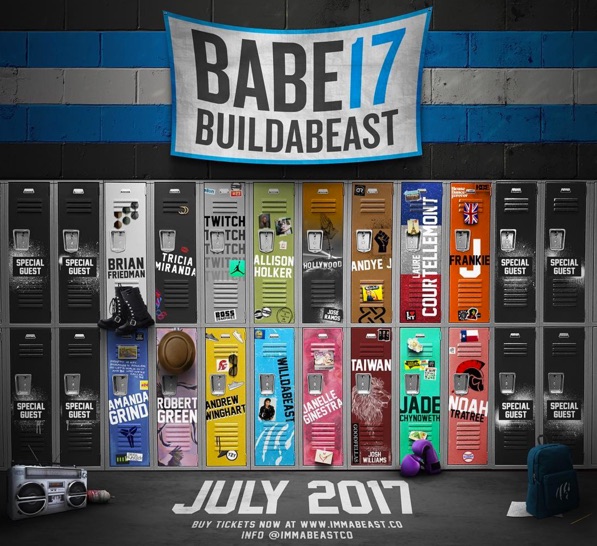 Now on its third year, Buildabeast 2017 #babe17 is set up to the the biggest and best hip hop convention on the planet.
If you follow my blog, I have written about the first two Buildabeasts here. The short recap is that the first event was held at the Marriott Burbank, a popular dance convention hotel. It's one of the largest convention spaces in all of Los Angeles and Buildabeast sold out the first year. Last year, they moved the event to the Los Angeles Fairgrounds facility – Sheraton Fairplex and convention center. The place is massive. Last year, they sold out half of the building. This year, they are taking over the whole building and will be running two stages!
Here is a little inside scoop – the theme for Buildabeast this year is School.
You will see all of the immaBEAST  company members following a costume plan. Wednesday is Rubix Cube day. All of us will be wearing colors from the Rubix Cube. Thursday is Black and White with immaBEAST turquoise flair. Friday is sports day, and if you know Willdabeast – you can imagine that there will be a lot of Golden State Warriors gear!
If you have not already purchased you ticket, be sure to do so now! They are not sold out yet, but it looks like they are on track to sell out soon. Buy Buildabeast tickets here. BTW – the Convention hotel at the Sheraton Fairplex is sold out. Reach out to the Buildabeast staff to get information on the secondary hotels. There are lots nearby. Don't camp – its too hot in Pamona.
Eight of the faculty members have been announced. But here is a quick list : Brian Friedman, Tricia Miranda, Twitch, Allison Holker, Hollywood, Andye J, Laurie Courtellemount, FrankieJ, Amanda Grind, Robert Green, Andrew Winghart, Willadabeast, Janelle Ginestra, Taiwan, Jade Chynoweth, Noah Tratree. It is an excellent blend of the top working choreographers and teachers along with some of the greatest dancers in the world who are now teaching – Jade – Noah….. and you can be sure that Taylor Hatala and Sean Lew will both be teaching too.
Oh – and another inside note – the Friday night gala is amazing and will be full of celebrities. Bring your fancy clothes. Aside from hundreds of the top choreographers in the game – there will be some superstars. For example, Usher showed up last year.
The entire immaBEAST team has already started rehearsals for different pieces. I will be in a ladies piece choreographed by Janelle Ginestra. I have never danced with such extraordinary dancers in my life. Love Love Love. Gorgeousness
Of course, when Buildabeast is over, the immaBEAST auditions begin. Every year, Will and Janelle rebuild their team from scratch. No current team member is guaranteed to be retained for next year's team. I have loved being on the team as a lilbeast, and now teenbeast. The training, friendships, and career development have been extraordinary. I will be busting my butt to make the cut.
Help Teen Beasts Get Dinner At Mastros!
Our company video this year is awesome – the teenbeasts and lilbeasts each have their own. Will told us that he will buy dinner at Mastros for the team that has the most views. Please watch our video.
First ImmaBEAST audition