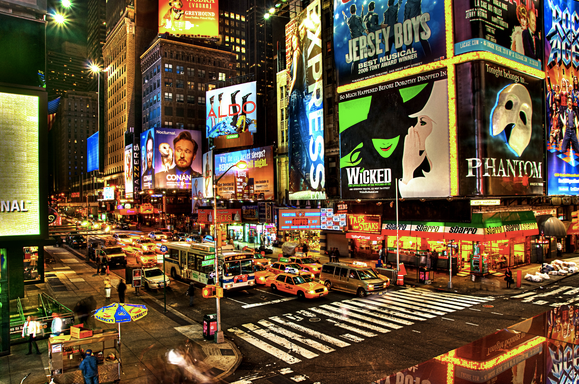 I am really sorry for not blogging in so long. My website was pretty messed up and I had a crazy summer. Now things are back to normal (well sort of) and I am back in school like most 12-year-old kids. The rest of my schedule is anything but normal, but it's good to be home. Here is a recap of the summer. This will be series of posts that I'll publish every couple of days as time permits, so hang in there and subscribe to get notified when Summer 2 is released – titled Hollywood Vibe Nationals, Drama and Team Larkles.
In the middle of June, I went with my school drama group to NYC. This was the beginning of a travel schedule that took me away all summer. We had an amazing experience. I have been to New York City once a year with my parents, so I know my way around Midtown and Times Square and have done all of the tourist-y stuff. I can tell you that it is way more fun to travel with your friends. (Sorry Mom and Dad!) We had a blast. I am releasing a video in the next few weeks that shows what we did. I lost the footage but just found it. Be sure and subscribe, or watch my YouTube channel. My favorite part of the trip was attending Broadway shows. At sometime in my life I hope to dance on Broadway (Hint Hint Chelsea Blake from MSA and Nelson Diaz from BTB Management). I also loved visiting the set of Saturday Night Live. I love comedy television and it would be amazing to be on that show! #goals. I guess the point of the trip was to dream big, and I am on it.
All summer long I have been dancing for the LA Sparks women's professional basketball team as part of the LA Sparkids. The team just made the playoffs, so the season continues. The ability to work with choreographers like Brandee Evans and Jenna Frechette has been exceptional. And, who would not want to be on the court at the Staples Center! It is a legendary place for sports (aka home of the Lakers) and entertainment (Taylor Swift set a record for sold out shows this year). They are picky about posting video of our routines, so I do not have much beyond a few short clips on Instagram that shows the work. I made so many new friends on the #sparkids team and was able to work with a lot of the #sparkids that just made it to the #immaBEAST team too. I'm so excited that Im going to get to spend more time with them!
Be sure to subscribe if you want to hear the rest of the summer story. Next up is the Hollywood Vibe Nationals Drama and the introduction of the ongoing dream team – Team Larkles!