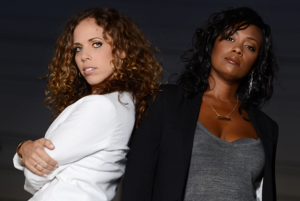 If you are reading my blog, you are probably a dancer, and you probably know Chonique Sneed. She is one of my favorite teachers and choreographers. She was born in Hollywood and started dancing at the age of 8 – which is about the time that I started to take dancing seriously. She is an adult now, and tours the nation with Hollywood Connection on the faculty. She and choreographer, Lisette Bustamonte, also with Hollywood Connection, mentor a group of teen dancers each year to grow in character and confidence. The program is called Creating Opportunities or, Creating Opps for short. From them I have learned that there is a difference between dancing and being a dancer. Dancers are strong, powerful people who are caring and aspire to be the best they can be in everything they can do.
Chonique has choreographed for artists like Missy Elliot, Christina Milian, Britney Spears, Pink, Jennifer Lopez, V Factory, Diddy and more. She is also on the faculty of Monsters of Hip Hop (hopefully #lilBEASTS will go to that).
Join me in celebrating the release of her hit single – Let It Go! ***caution – there are a few words in the song that are not totally rated G **** but it is not that bad – you may want your parents to listen first.
I tried to embed the code from SoundCloud – but it does not seem to be working (someone please help that reads code). For now – just click this link to Chonique's song on SoundCloud. Please share! Everyone needs friends giving them a little boost!
[soundcloud url="https://api.soundcloud.com/tracks/162289636″ params="auto_play=true&hide_related=false&show_comments=true&show_user=true&show_reposts=false&visual=true" width="100%" height="300″ iframe="true" /]