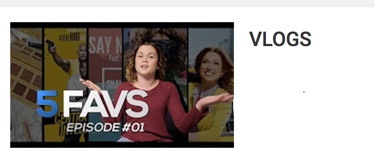 As you may know, I have been taking acting classes from Zak Barnett for about a year now. Dance is still my greatest passion, but acting is by far my #2. Like dance, one of the most important things to learn is to feel comfortable on camera, and to present yourself to the camera. With dance, you become aware of how your body and expression looks on camera. With acting, you add in an awareness of using speech on camera. Its a whole new dimension for me to figure out, so I started vlogging.
Vlogging is a lot like blogging, but quite a bit harder in a lot of ways. With blogging, it is pretty easy to hit the delete key to go back and fix a word or a sentence. With vlogging you need to start all over and do another take. The good news is that it is more natural for me to talk than it is to write. Frankly, that is probably the reason why I post so much more on YouTube than on my blog. Regardless, to be a well rounded person it is probably a good thing to keep practicing the writing too. You just never know where life will take you.
The vlog series that I launched is called 5 Favs. In each episode, I talk about my favorite song of the week, a favorite movie of the week, a favorite YouTube channel of the week, a favorite Netflix or TV show of the week, and a favorite beauty product.
In my first vlog, I highlighted Shakka, Central Intelligence, Unbreakable Kimmy Schmidt, Glozell, and the Lorac UnzippedGold Pallete. The Glozell part is pretty special. If you follow me on Sparkles Lund Instagram, you know that I was booked to work with Glozell on her Mannequin Challenge video. As it turned out, my parents were included in the video as extras – you gotta check it out. Super funny.
Anyway, here is the first 5 Faves that I did. If you have ideas for how to make it better, let me know.