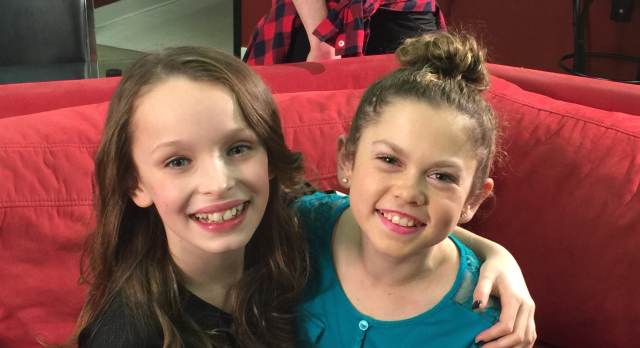 A few weeks ago I had the opportunity to do this collaboration video with one of my friends, #lilBEAST team members, and favorite dancers, Ms. Taylor Hatala. Choreography for the video was none other than #immaBEAST team member Antoine Troupe. Of course, the video was produced and directed by my friend and life coach, @directorBrazil. The concept was focused around a Valentines Day release using the hit Meghan Trainor song, Dear Future Husband.
I hope you like it.
Press Release
LOS ANGELES, Feb. 13, 2015 (GLOBE NEWSWIRE) — Valentine's Day is not a romantic Hallmark card for 11-year-old Taylor Hatala and 12-year-old Sparkles Lund. Too young to date and too soon to have found love, these two young professional dancers worked with renowned freestyle and hip-hop choreographer Antoine Troupe to produce a Valentine's Day video to Meghan Trainor's song, "Dear Future Husband," being released February 14 on YouTube (https://www.youtube.com/watch?v=ER6O55iAPZk).
"When you are our age, boys are just friends," says Edmonton-born Taylor Hatala. Hatala is commuting to Los Angeles and working part-time as her burgeoning career develops. As testament to Hatala's talent, her YouTube videos to Nicki Minaj's "Anaconda" (https://www.youtube.com/watch?v=rgfF_c6uPaU) and Meghan Trainor's "All About That Bass" (https://www.youtube.com/watch?v=4pfloxVMJGw), have been seen more than 30 million times, garnering appearances on "The Ellen DeGeneres Show" and RyanSeacrest.com, among others. Troupe, Hatala and Sparkles Lund became friends dancing on the immaBEAST hip-hop crew, under director Will 'WilldaBeast' Adams.
According to Troupe, the concept for the video was born during the filming of the immaBEAST routine for the Choreographers Carnival Anniversary show this past January.
"Although dance is my life," says Troupe, "I am driven by the impact that dance has on developing healthy, active, and confident kids." Troupe selected the piece that he claims was ready made for Sparkles and Taylor.
"Meghan Trainor's work is perfectly kid-style," says Sparkles Lund, who recently released a video last week to Trainor's hit "Lips Are Movin" (https://www.youtube.com/watch?v=-hA5VLVq7dc). "What girl doesn't want a future husband that brings flowers, open doors, and wants to be her one and only?" Lund asks.
Sparkles Lund began her professional career in dance at age 10. Her recent work includes a three-city tour for Macy's Glamorama and an appearance on the finale of ABC-TV's Dancing With The Stars, performing to "Hard Knock Life" from the new Annie movie.
"Working with superstars like Taylor Hatala and Antoine Troupe is a blessing," confesses Lund. "It's so exciting to see Taylor's career skyrocket, and I am so happy that Antoine was able to work with Prince to choreograph his latest video 'Breakfast Can Wait.'"
YouTube is fast becoming the path to rapid stardom for many of today's young performers, circumventing the previous paths that were largely limited through New York and Los Angeles.
Lund, who lives in Arroyo Grande, locate on California's Central Coast near San Luis Obispo, and Hatala, who lives in Edmonton, Canada, are adopting the strategy started by Willdabeast by creating their own YouTube channels to self-publish their work. Willdabeast is teaching young dancers that YouTube is a place where you can make a mark and punch up your career. His YouTube page has more than 735,000 subscribers and more than 100 million views. Hatala's YouTube channel is at http://bit.ly/taylorhatala and Sparkles Lund YouTube channel is at https://www.youtube.com/user/sparkleslund.
About the Video
Dancers: Sparkles Lund & Taylor Hatala
Choreography – Antoine Troupe
Director – Brazil Siqueira
Music – Meghan Trainor, "Dear Future Husband"