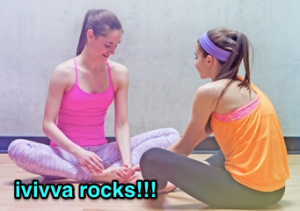 You might think that it's a little strange for an eleven-year-old to be shopping at lululemon, and most other people think so too. That is exactly how I found out about Ivivva.
I went to New York last Summer for many different things including dance, family time, and just plain old fun! While we were there, my mom and I decided to go do some shopping! We went to a few of my favorite stores including Abercrombie, Pacsun, and Tilly's, and then we came across lululemon. Many of my friends have told me about the store and so we decided to go in. Their merchandise was cute and so I tried on two pairs of athletic shorts and a sports bra. The sports bra fit fine, but the shorts were a little bit too big. My mom asked one of the women working there if they made any of the shorts in smaller sizes and then she said, "We actually recently created a full kids line called ivivva. It would probably fit your daughter much better than lulu would." My mom said, "Thank you!" with a big smile on her face and we searched for the closest Ivivva on Google Maps. It turned out it was only about 5 blocks away!
We went into the store with open minds and happy faces and started looking around. Almost instantly we found a bunch of stuff that we were interested in so I entered the fitting room. Everything fit great! The sizes are very true and all the employees are super nice. They are all either dancers, yoga teachers, or ice skaters, so they know about the athletic body. They were also very helpful with finding the products that are for the specific sport you play. The store is divided into parts based on sizes, so it is very easy to find the one you need. I hope you will go there someday to see for yourself!
If you're reading my blog, you're probably a dancer. And since this store only has about 10 locations. They probably don't have a store in your hometown. But fortunately, they have a great website that has all the same merchandise that they sell in their stores. Click the link below to see it!